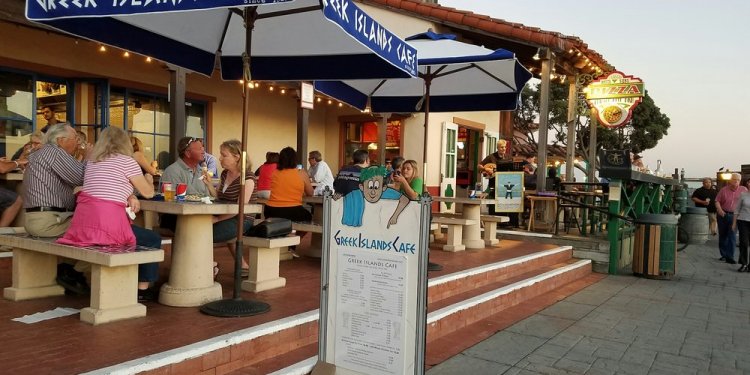 Islands Cafe San Diego
The Port of San Diego has more than 600 tenants and subtenants doing business on more than 3, 400 acres that make up the Port tidelands. Tenants range from gleaming high-rise waterfront hotels to mom-and-pop shops. Each month, the Port highlights one of these tenants in the feature: "Spotlight on Tenants."
This month's featured tenant is the Greek Islands Café and Asaggio Pizza Pasta Plus, both located in Seaport Village. The Greek Islands serves signature Greek food such as Athenian chicken, spanakopita and gyros sandwiches. Asaggio's advertises that it dishes up the "Best Chicago Deep Dish Pizza West of Wrigley Field, " along with calzones, meatball, sausage, chicken and eggplant sandwiches dripping with cheese.
It's definitely a family affair at the Greek Islands Café and next door at Asaggio Pizza Pasta Plus.
Liz and Jerry G Bishop, for years an entertaining radio and television figure in Cleveland, Chicago and San Diego, established the Greek Islands when Seaport Village first opened in 1980. Seven years later, the husband-and-wife team opened Asaggio's next door and began serving the pizza that Jerry G likes to say is the best deep dish pizza west of Wrigley Field.
When the Bishops' daughter Melissa isn't flying - she's a part-time flight attendant - she's overseeing operations at the Greek Islands, and her husband works at Greek Islands. Sylvia Ahmadnia has managed the place the past 25 years. Chef Peggy Ioannides has been with the Bishops 25 years.
Next door at Asaggio Pizza, the Bishops' son Chris oversees operations.
"Our people stay for a long time, " Bishop said. "It's a family business."
The Greek Islands and Asaggio Pizza are tenants at Seaport Village and sub tenants of the Port of San Diego.
Green Business Challenge
It is one of 45 businesses that have signed up to participate in the Port's Green Business Challenge, which is designed to help tenant businesses reduce energy and water use.
Melissa is the one who can take credit for getting involved in the environmental initiative.
In fact, even before signing up for the challenge, she was searching for ways to lower the restaurants' electricity bills.
"My mother's energy bills are crazy, " Moore said.
Between the two restaurants, there are 50 light bulbs. Moore said she had been looking for a good buy on replacement bulbs that would help save money. She's replacing the old bulbs with flourescents. She also is looking to replace service items, such as take-out Styrofoam cups.
Not only is Moore looking to save money, she is concerned about the environment and she wants to do what she can to minimize the restaurants' environmental impact.
"It's all about the earth, we need to conserve, " she said.
The Port, along with its partner San Diego Gas & Electric, is providing information for businesses that includes ways to save money and resources. Each of the participating businesses is tracking their progress toward saving. At the end of the year, Moore and the other business operators can see if the changes they've made in their operations have paid off.
From T.V. to the Restaurant World
Back when Bishop was considering starting a business, he figured a restaurant would be a lot of fun. "It's not a lot different than what I did" (in TV and radio), he said. "And I like food."
The restaurant business, in effect, is an extension of the owner's personality, Bishop said. "Hopefully, our restaurants reflect that."
To say Bishop is outgoing and entertaining is an understatement. After all, his most successful act was as the character Svengoolie, a popular skit on WFLD TV in Chicago. Every show would open with a guest celebrity opening a coffin containing Svengoolie followed by Bishop reading something goofy and later Svengoolie lying inside his coffin while being pelted with rubber chickens.
In San Diego, Bishop entertained on both radio and television, including the popular SunUp San Diego show that ran for years on Channel 8. He was awarded three Emmys and was named TV performer of year for SunUp San Diego (KFMB-TV).
While Bishop is the outgoing one, his wife Liz is the reserved one, he said. And she's the one who runs the business with a firm hand.
If you head to one of the restaurants, Bishop recommends all the food, of course, but he's particularly likes the lamb chops and chicken. And at Greek Islands, you must try the baklava baked by chef Peggy Ioannides.
Share this article
Related Posts