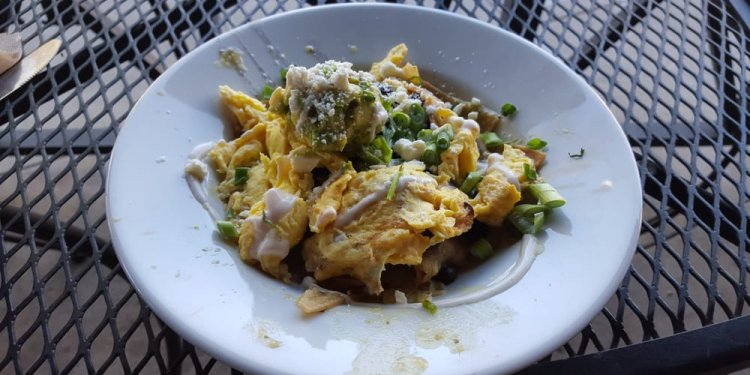 Kensington Cafe, San Diego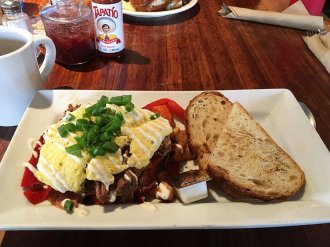 The "Montezuma" sandwich is a popular dish at Kensington Café.
Austin Gayle
The "Montezuma" sandwich is a popular dish at Kensington Café.
Customers flood Kensington Café's corner location to enjoy "healthy, decadent options" ranging from its vegetarian friendly Spanish Revival to the carnivore classic Pulled Pork Hash.
Kensington's loyal patrons, however, return simply because it feels like home.
"To say I come just for the food would be a mistake, " a liberal studies senior at San Diego State and frequent visitor to Kensington Café, Hailee Stanton, said. "It's more than just a local breakfast spot. It's a place in which I find comfort both in what I'm eating and where I'm sitting."
Located on the corner of Adams Avenue and Marlborough Drive in the Kensington neighborhood, the cafe prides itself in its ability to provide a warm, friendly atmosphere to the San Diego community and local college students. It does so with eye-pleasing paintings pinned to Columbia blue walls paired with an amiable crew of servers.
The restaurant's manager, Nate Noriega, said he prioritizes the café's neighborly atmosphere.
"Our ideal goal is to have a neighborhood cafe that is friendly to those who live in the neighborhood and those who are visiting the neighborhood as well, " he said. "We're in central San Diego, so we're right in between several of the major universities, including (SDSU) of course."
In addition to its admirable ambiance, Kensington Café provides local college students a safe haven to take advantage of free Wi-Fi and enjoy coffee and espresso purchased from San Diego's very own WestBean Coffee Roasters.
"I'm not too much of a coffee drinker, but I always tend to grab a cup when (studying) at (Kensington Café), " Stanton said. "And the coffee always goes great with practically anything on the menu."
The diverse menu offered at Kensington Café preaches variety, making a clear effort to attest to every palette in the San Diego area.
The aforementioned Pulled Pork Hash, Kensington's top-seller, pulls the customer in with its savory pulled pork tucked beneath a blanket of two over easy eggs a fork-poke away from spilling over the plate. However, the bed of spiced sweet potatoes resting below the marinated meat keeps the fork from resting on the table.
If breakfast isn't in the cards, Kensington Café offers a variety of hot sandwiches, including the Montezuma.
Loaded with grilled chicken, Swiss cheese, green chillies and a delightful spicy aioli, the Montezuma draws in customers in search of a solid sandwich, but it pivots to perfection when paired with one the cafe's best soups, the tomato bisque.
Biting into the Montezuma by itself draws a smile; biting into the Montezuma after dunking it in the tomato bisque quickly draws another bite.
The menu continues to impress in its vegetarian options, as the Tree Hugger, an egg scramble featuring spinach, mushroom and feta cheese, and the avocado-dependent and aptly named Sandy Eggan stand as two favorable dishes for those looking to keep meat off their plate.
Kensington Café is also the place to be for those looking to keep money in their wallet.
"Our prices are very reasonable, " Noriega said. "Let's be honest, sometimes when you're in college that's a big thing that you look for, reasonable prices and still a good quantity, a good amount of food that you're receiving for your buck."
Keeping cost in the picture, Kensington Café continues to check all of the boxes for local college students, making it a no-brainer for Aztecs to check off their list.
compliance management
princeton management
change management definition
bakersfield property management
population health management
tax form management
partnership property management
carlson school of management
partners property management
red rock management
community management
time management apps
authority property management
best social media management tools
rbc wealth management connect
business management jobs
standish management
records management
rize property management
western asset management
mth management
waste management louisville ky
ari fleet management
mainstreet management
property management salem oregon
waste management kansas city
blue frog property management
key management
affinity property management
effex management solutions
ford management
management games
business management degree salary
scrum project management
waste management palmdale
fresno management company
lighthouse management
organizational change management
empire management
customer management relationship
pain management clinic near me
elite property management grand forks nd
allied property management
priestley management
weight management dog food
rental management companies
high output management
gifford management group
pinnacle management
rpm management
granite state management & resources
united community management
waccamaw management
trillion property management
what is alternative investment management
targeted temperature management
stewart property management
rc management
wealth management certifications
trestle management
beacon property management
beach cities management
organizational management
fleet management software
center for nonprofit management
Share this article
Related Posts