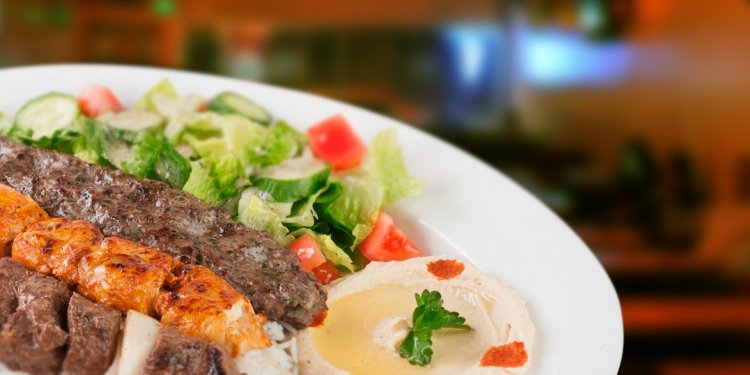 Mediterranean Cafe San Diego
5285 Overland Ave
Ste 102
San Diego, CA 92123
(858) 576-9999
Love this place! The entire establishment is family owned and operated. Al is so friendly, remembers my name, order. The ladies up front are charismatic, and provide great service. The food is phenomenal, fresh and reasonably priced. Thank you tigris!
The quality of the food here is excellent. The pricing is about the same as other mediterranean places, but taste has an advantage here. I got the falafel plate - it comes with 6 pieces, rice, pita, hummus, & tabouleh. Falafel - perfectly fried with good flavor Rice - Generous portion, with only slight flavor. Not salty. Pita - Decent soft pieces, warm Hummus - This is the smoothest hummus I have ever had. It's blended extremely well, it doesn't have the grainy texture at all - I was surprised by this Tabouleh - Basically a parsley/tomato/onion salad with lemon juice. I had a bit of this but I'm not really a fan of it. Overall, I think this is a good option if you're in the area and are craving this type of food. The staff is fine and didn't really have any problems here.
Customer service is awesome here. The workers are nice and friendly. I usually order the chicken shawerma with yellow rice, humms, pita, tabouleh and garlic sauce. The meals are huge and always have left overs. I've also ordered the salad a few times and they give you plenty of meat so you get pretty full. Their lunch specials are a good deal as well. I like how they conveniently have a sink outside of the bathroom in case you just want to wash your hands without going into the bathroom. Parking can be a challenge, especially during lunch time. Luckily, I just walk here since I work across the street!
This place is a gem! Found it on accident when I turned in to the wrong driveway trying to get to a different restaurant. Saw the "Fresh, Fast, Fantastic" sign on the front and figured it was worth a shot. Then I saw the oven they had near the entrance and was sold! I had to try their breads. It's an "order up front, delivered to your table" kind of place. They have beer and wine, and friendly service. The chicken shawarma flatbread was amazingly good, and the Greek salad with chicken shawarma added was delicious and HUGE! The salad alone was enough for two very hungry people. It was loaded with tasty kalamata olives and feta cheese chunks. The salad was crispy and refreshing. The garlic dip served with the flatbread was tasty, though definitely haunting...even hours later. The chicken shawarma meat was super flavourful and moist. Great by itself but even better on the salad or flatbread!
Aside from Luna grill, this is our other preference for Mediterranean food. They do not disappoint in portion or taste. We usually call it in and pick it up, no problems what so ever. This is our regular type of "fast food" that we can enjoy and not feel guilty about. Everything's good!
We had a delightful evening here the night before last. Every dish we ordered from soup to dessert was done well. The highlight was the grilled whole sea bass. Perfectly seasoned and paired with swiss. A touch of pink at the center, just the way I like it. It was also generous enough for three people. The wait staff provided excellent service. The decor had a nice touch. We will return to try other dishes.
Hubs and I are always on the move and on the hunt for a healthy and quick lunch option. We stumbled upon this gem one busy Saturday afternoon, and we were pleasantly surprised to enjoy such delicious, traditional, family style flavors! Fresh, hearty, and delicious!! Absolutely a wonderful choice!
Looking for fresh and healthy, clean middle eastern food, Tigris is the place to go. I always order from here since I work very close. My favorite dishes are the chicken shawarma plate and the chicken shawarma sandwich with no lettuce. The ladies at the cash register are very friendly and helpful. When you walk in to order, you can see the chefs preparing the food. Everything looks high in quality and fresh. It's difficult to find parking at this establishment. The parking is very limited and it's difficult even if you want to run in and pick up your food. I recommend Tigris if you ever want Middle Eastern food.
Great place for quick Mediterranean food. The prices are very reasonable and they don't skimp on the portions. I tried the chicken shawarma flatbread and was blown away by how much chicken was piled on the flatbread! The Greek salad was just as impressive. I had enough food for lunch & plenty leftover for dinner.
My new go to place for a healthy Greek salad. Here's what I get: Greek salad - Add chicken shawarma Crisp romaine lettuce, cucumbers, onions, olives, tomatoes & feta cheese with a light lemon vinaigrette dressing. ~$12 I love Greek salads and the best I've found is from Aladdin's off of Clairemont Mesa and 805, but this place is a good substitute and close to my work. It's quite the hefty salad, with the perfect balance of lettuce to protein to veggies. I eat a lot and this is pretty filling if you eat the entire salad. You can definitely split the salad. Nice and quick. Check it out!
Very friendly service and a clean environment close to where I was visiting made this spot very appealing. Because I often eat Mediterranean food I was hoping this place would measure up, especially with such glowing reviews. Unfortunately the food was bland. The yellow rice was just that: yellow rice, while typically this refers to basmati rice with saffron, Tigris' interpretation was far more literal and far less appealing. The hummus was also uninspired. Overall I was happy with the non-fast food and non-burger lunch option. But I will stick with my regular Mediterranean haunts.
Delicious! I was craving a gyro and this place hit the spot. The lunch special was about $10.25 out the door for a drink, gyro, and fries (or salad). The gyro and fries were soooo fresh and delicious. They put lots of meat in it too. Will definitely come back!
Share this article
Related Posts