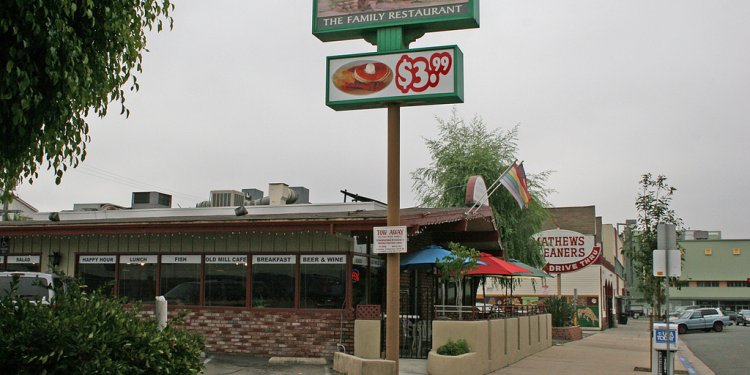 Old Mill Cafe San Diego
3949 Ohio St
San Diego, CA 92104
(619) 294-3804
That was excellent! Way better than Denny's, great prices, fresh ingredients, wonderful service, and big portions. I had the veggies omelette and asked for broccoli to be replaced with peppers and spinach and it was delicious! So big I could not finish it. I was told the steak and eggs and corn beef and hash was delicious as well. The service was five stars. She was prompt, efficient, and accurate. Our coffees were never empathy and she checked on us just enough.
They do diner food here. And they do it well. Good portions, flavorful, satisfying and the man who always serves is always very polite and precise. We came in one night and tried their Korean style ramen (seafood, pork, or vegetarian). Served with kimchee. It was pretty tasty. But if you're looking for real, authentic ramen this may not be the place for you. We've also tried their fried mussels, onions rings (really good actually), split pea soup (also really good), fired clams, and veggie burger. This is one of those places you always pass by in North Park but never try out until you finally do. It's definitely worth a try!
Its my little hidden jem. I go here for their breakfast and burgers mostly. They have good food at a great price.
I stopped by this place for dinner. Getting here was bad because there was so much traffic. As I pulled up, they have their own private parking lot. If you want to leave your car here and walk around, it's $5.00 the whole evening. Not too bad because parking in the University area sucks. Anyway, as I entered, I was greeted by an older gentleman and the waiter who took my order. I went with a club sandwich on wheat which I got with crinkle cut fries. The sandwich was good. Piles of ham, cheese, lettuce, tomato, bacon and mayonnaise. There was a good amount of mayonnaise on it because the bread was a tad dry toasted. The crinkle cut fries were good. Crunchy on the outside and moist on the inside. Service was descent. I got my water refilled by the waiter. The only negative would be there was no air conditioning inside the restaurant. It was so warm inside that I was sweating while I was enjoying my food. Descent place overall.
Finally got to drop by here last Thursday after seeing their newer sign for "RAMEN" last year. Parking lot was crazy busy (due to a concert at the Observatory), but it was relatively easy for me to find a spot as it's free if you're eating at the restaurant. The server at the restaurant was very friendly and helpful, as I waited for my party to arrive, and the place itself has a nice cool and calm vibe. Lots of seating, and no wait at all on that night, and when I finally got seated (they let you choose), it was time to look at the menu. There are a lot of choices, with a good portion focusing on breakfast items. I was surprised to see them serving corned beef and cabbage as their Thursday dinner special, which got me really excited (it's one of my favorite dishes), so that was cool to know next time as I had my heart set on trying their Korean-style ramen (ramyeon). Ended ordering their seafood ramen/ramyeon with came with a size was well-seasoned kimchi. Orders didn't take too long to arrive, and the food was freshly prepared. The ramen was really tasty, and there was a good amount of seafood (clams, mussels, peeled shrimp) in the mixture. Broth was delicious with some spicyness, and the portion was filling. Also tried their fried clams which were really good as well. Price ended up being pretty cheap (around $9-10 for the ramen), and it was cool they offered other options (vegetarian, chicken/pork). Overall, it was a great experience, and I can't wait to come back to try the corned beef and cabbage (and to get some ramen/ramyeon again) next time. Thank you guys!
Took 20 min to take our order then 40 min later after 2 groups of people who came after us received their food we were still waiting. So we left sad thing was the waitress didn't even notice. Won't go back
Found this restaurant by listening to my belly. Didn't eat anything all day and I was starving. They offered complete meals for $11.99 and it changes daily. Since it was Sunday I ordered the fresh oven roasted turkey with fries, salad with 1000 island, a Coke, dinner roll, steam vegetables and strawberry ice cream for dessert. The owner was hard at work keeping his customers happy and full. He keeps his place spotless. It was very clean. My belly is still happy and will definitely be returning hungry next time to try their other delicious daily specials.
Portions were great. Got the sausage omelette and I was more than satisfied. Good service too, went with 16 guys and the waitress still remembered who ordered what when she brought out the food.
Share this article
Related Posts