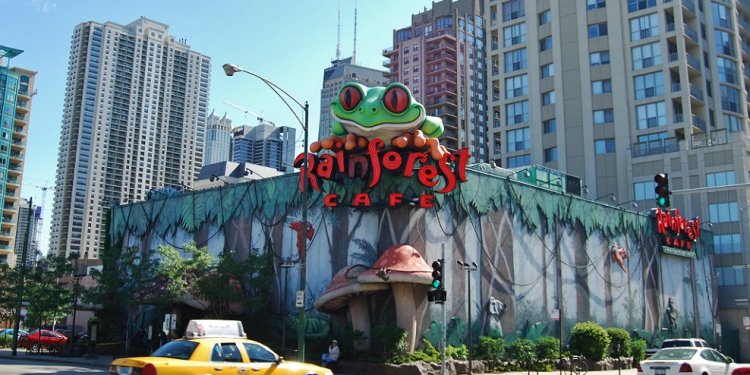 Rainforest Cafe San Diego
145 Jefferson St
San Francisco, CA 94133
(415) 440-5610
I was reading the negative review about food served cold - that is highly unlikely unless you ordered ice cream. Food comes with steam flying off of the meal. God forbid the food was served cold, the service will reheat it anyway. There are plenty of servers around. And NO, it doesnt take like yesterdays Airplane Food. Now here is the truth The food is excellent, tasty, not overly rich, not giant portions but enough to fill you up and order their volcano dessert. You get a good plate full of food. I was there last weekend with my wife for Christmas Eve dinner..so I can vouch about everything The place is an adventure with great sights and sounds. I had no problems with the service. He came three times to see how we were. It has great fun atmosphere. The only drawback is depending on what you order, you can wind up with a 100.00 for three items. Okay so we lived it up, as should we all. It is more of a special occasion or place for tourists who dont know any better. Unless you are used to spending 100.00 for dinners all the time, many of us probably would go there on a birthday, holiday, some kind of reason to celebrate. Of course you can just go and order appetizers and salad and spend half ! :) But most importantly, the food and service are both good. And NOT served cold. That's a fact.
I should have went with my better judgement and just avoided this CHAIN restaurant all together. HORRIBLE. Remember when there was actual fish tanks inside the rain Forrest cafe? Yea well they just project them now and all of the screens appear to be quite damaged and don't even project any sort of image. As for the food? Yea chain food...something that you basically just pay more for the experience versus the quality. I feel incredibly bad that I talked my boyfriend into coming here, but I really thought it was something super neat from long ago, but that dream was killed as soon as we sat down to eat.
If you are a tourist visiting SF, you should not eat here unless you want a totally non-SF experience. Why was I here? Because my friend was staying nearby and she had a stroller and we had lots of kids. The food is overpriced. Drinks are over priced. Quality of food is so-so. The only redeeming quality is the decor inside.
My favorite part about coming here before was the aquariums. I called to make a reservation and asked to be seated by the aquariums. Why did the host tell me ok, when they don't even have aquariums anymore?? All there is are windows with a picture of some whale or dolphin or something. As we were being seated, we were told there's a "storm" every 30 minutes (while pointing to the ceiling). Cool! Except you don't get the "storm" affect in that certain part of the restaurant where the "aquariums" are. (Minus 1 star) The menu that has all the photos and makes all the food mouth watering doesn't have prices next to them. Price wasn't an issue since we were celebrating my daughter's birthday, but it was shocking to get the bill at the end. (Minus 1 star) I ordered a meal with steak, coconut shrimp, and veggies. The only thing edible was the shrimp. The steak was hard and dry and the vegetables were hard and greasy. Not worth the secret price of $27.99. (Minus one star) They are kid friendly and someone walks from table to table making balloon animals and our waiters were very nice. Two stars.
Expensive, long wait time of 1 hr at 3pm and even though the restaurant was not full at all. They got rid of the beautiful fish but kept the food expensive... We came here for several birthdays but not anymore. I don't like to feel getting ripped of. Food: vegetables=only carrots, not really warm, cocktail pretty much ice with some liquid... last time for me.
YUCK, my 4 year old daughter got food poisoning almost everything she ate I also I ate too but did not experience any signs of food poisoning so far. But she did have the pizza on the kids menu. She never throws up, but 2-3 hours after the meal she woke up from her sleep throwing up over and over again. Which scared me and had to take her to the ER.
If it wouldn't be for our child we wouldn't come here but, our boy likes this place. So today was his birthday and we decided to come here for dinner. First of all customer service is all the way at negative 5 star. We ordered bunch of food so our waiter forgot half of our order, but he make sure to remind me of his tip when he brought me our check. very very rude, and I will never go back there again. This place is not worth the money or your time.
This place was a little loud, but what would you expect in a venue like this. Where are their use animatronics and things going on every 10 to 15 minutes while you were eating. The food is good. I had fish and chips and it was incredibly fresh. Quite expected for somewhere in San Francisco on the wharf at the price that you pay for dinner. This is a very family friendly environment. I would suggest here coming with a family of three or four. Not a place for a date or evening out comfortably due to the activities that's around you engaging kids to want to see what is going on with all of the animatronics. That being said it is more family-friendly then personal but it is also an experience and located very close to Madame Tussauds. It is right on the wharf. A great tourist attraction and store located before you even get to the restaurant. And there is a nighttime bar with also animatronics. Either way this is five star. The service was good and fast and very friendly they were very attentive to the needs of my party. I did have to ask for refills but it was also very very busy and very active. You cannot blame the servers for not refilling a drink and they are trying to serve people and a packed house pretty much all day. The price is fair for San Francisco for what you receive in return. It is clean well maintained well-lit and a perfect balance for a disney-esque dinner without the Disney entry fee and real food that fulfilled me and my party. This place is highly recommended for anyone coming to San Francisco.
Went in mid day, with no wait... are server was great... Food was good... was just like eating in the jungle .. Would recomend... mid.. day before it gets to busy and all menu items available all day.
Food: Yummy. Small portions but surprisingly filling. Atmosphere: Fun & busy with a store downstairs. Stroller parking available. Bathrooms are OK. Very low to no reception on cell phones. Prices: A little pricey. Main plates going around $29 range. Kids for $8.49. Wait times: Be prepared to wait especially when there are events. We waited 1hr because of Fleet Week. Food also came out slow. To our surprise the aquarium section no longer has real fish :( and we sat there this time (-1 Star). So if you do decide to come ask that they seat you were all of the mechanical animals are at. It's worth the extra wait plus the kids will enjoy it more.
Share this article
Related Posts