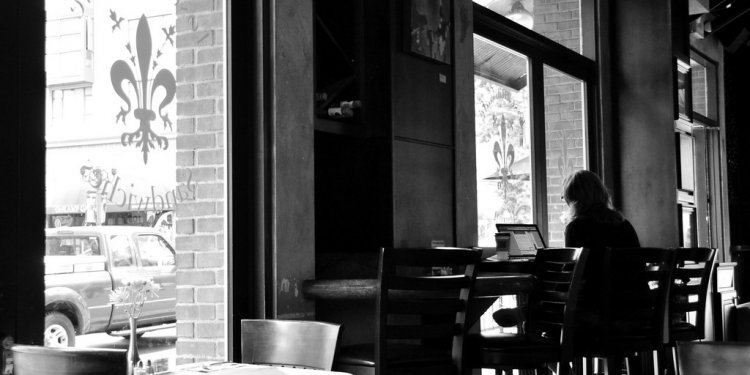 Toscana Cafe San Diego
238 5th Ave
San Diego, CA 92101
(619) 231-5788
I had their ahi tuna sandwich (well done). It was absolutely delicious. The tuna was grilled to perfection, the bread was crunchy but still soft, and unlike other sandwich places that overdo it with the condiments, it was light and flavorful. The restaurant is a bit pricey which is fine if the customer service was up to par, however I had to send back my plate originally since the tuna was raw at first (even when I asked for well done). For that reason I have cut a star. That and the fact that the spring salad wasn't great, very bland.
It's a tourist trap and I do not recommend. My wife and I ate here for dinner. I ordered the lasagna and it came out cold/frozen in the middle. Two big problems with that... 1, it's cold/frozen and 2, it's not fresh. They have very high prices and I shouldn't be paying that for frozen food. Once we notified the server, they took it back and re-heated the same plate. It took quite a while and my wife was completely done with her food by the time I go mine. Most places would have brought a new plate. What was most disappointing and the reason they don't even receive one star is the service. A manager never came over to apologize. The waiter seemed as if it happened all the time. While waiting for it to come back out, I sat with an empty wine glass and the waiter never came by to check on us so I could order another glass. At the very least, we should have had an apology. I feel we should have had a credit or just brought me a glass of wine on the house while I waited. It's a tourist trap. There are much better places in Downtown.
Definitely would not return. My sister and I came for lunch on a Sunday afternoon. I walked up and greeted the hostess. She even didn't smile, say "hi" back or anything. Honestly, she shouldn't even be at the front if she doesn't know how to crack a smile or greet people. We ordered the lasagna and the fettuccini. In my opinion it was mediocre. (Btw it cost $6 to add chicken to fettucini) My sister finished her fettuccine only because she's hungry and pregnant. Once the waiter gave our food we never saw him again. I had to get up and get a second set of utensils because they only gave one. We actually waited longer for for the waiter to collect out tab than we waited for our food. If you're craving pasta in the gaslamp, your better off going to Bucca di Beppo. It's around the same price, bigger portions, taste much better and atleast you'll be greeted at the door
Ah-mazing!! From the service by Karen to the absolutely delicious food! We were so pleased! Best meal we had in San Diego!! We had the buratta and beet salad, shrimp scampi, ( did I mention amazing? The shrimp are crispy but not deep fried.). Then great dessert of carrot cake too! We'll be back for sure!!! I would have added pictures but... we ate everything so fast!!! Try this place! It's very romantic but good for a semi-large group as well. What a way to end our trip! Thank you Toscana Cafe!!!
A wonderful culinary experience. The garlic bread, sausage penne, lasagna, and the taramasu were excellent. Very warm service and and wonderful venue. Impressed!
I decided to stop here because it was close to my hotel and the menu looked good . I was surprised about how accommodating they were with my shrimp scampi without pasta . A side salad was substituted that was as large as a dinner salad . The waiter was wonderful and checked to see often to make sure I was good . I wish this place was back in Maryland where I live, but unfortunately I was only in town for a convention. The latte was amazing and they made it with sugar free syrups and skim milk with out a problem ! Short walking distance from the Hilton Gas Lamp made this cozy spot ideal !
Such amazing service. Food is great, staff is wonderful. A must for your San Diego visit. It's rare to find a place that you can grab a glass of wine and just talk to friendly people. Gnocchi is amazing. Lobster ravioli is excellent.
Date of visit: 5/22/2016 After the TriRock Triathlon, I was starving and didn't have the foresight to look up or make a reservation for any places in Gaslamp for my family (I'll plan better next year). In addition to the conference going on, there weren't a lot of great choices, so we just went into the closest area that was serving breakfast. The prices looked a bit steep, but we were welcomed in by the hostess and seated immediately. This was nice since I know finding a table for 6 would be hard for Sunday brunch. My aunt and I both got mimosas, which were just okay. It was mostly sparkling wine with a touch of OJ. I've been in sweet tooth mode lately though and would have liked more juice. Rise and Shine. For some reason, I wasn't really in the mood for anything, so I opted for a simple breakfast with scrambled eggs and sausage. The best part of this dish was the potatoes and fruit. The eggs were way overcooked and the sausage was gross. I think they called it Italian sausage, but it was burnt and not tasty. The sourdough was decent, but I let my dad eat it. My family seemed to enjoy their food enough. Cam and Nangsa ordered the pesto scramble, which was an interesting take on egg scrambles, but it seemed really dry. Anthony liked his dish too, but he said that the portion was kind of small. Now, I don't know much about plating, but I was really underwhelmed about the presentation of all our dishes. It really seemed like they just threw food on the plates and moved on. Overall, Toscana is A-OK in my book. Since they're on the pricier side it seems to keep the crowds down, but next time I'll have to research a better brunch place in Gaslamp.
The best part of dinner at Toscana was definitely the service. Our waiter was very helpful, offered great insights into the menu and was very accommodating when it came to splitting the checks (thanks again!) Unfortunately, the food was only average. The Caesar salad was more creamy and bland than usual; the risotto was overcooked and the lasagna tasted funky/strong. Not sure if it was veal, but definitely had an interesting flavor. Not all was lost, the soup was delicious (creamy chicken barely).
I bought a deal on groupon and decided to check it out. It was slow, so I got seated pretty quick. And to be honest, I did not enjoy the food at all. It's either too much flavor or jlno flavor at all...someone needs to taste what they are cooking before they bring it out. The service was okay, we saw our server maybe twice throughout the whole dining.
Share this article
Related Posts