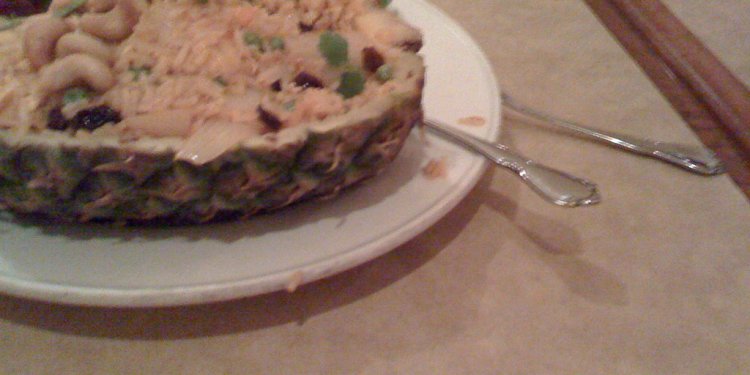 Spices Thai Cafe San Diego CA
3810 Valley Centre Dr
Ste 903
San Diego, CA 92130
(858) 259-0889
Very popular with the locals. More upscale that your Thai dive with prices to match. I personally didn't think the food matched with the price but I don't think asian people are their target audience. Very busy at lunch and parking is horrible at lunch.
This is our go to Thai spot in Carmel Valley. They are usually crowded, so try to get there a little early for dinner. The tables are a good distance from each other and not cramped. Their prices are just about right and portions are a decent size. We usually order vegan Thai food without fish sauce and egg and they seem to understand our order and get it right. Service is fast as well. The food tastes good, though not the best Thai we have eaten . Their spice levels are on the lower side, so bear that in mind when ordering.We have also done take out and I have had some concerns if they comprehended the order, but apparently they did and got it right. Overall, I would recommend for take out, quick dinner alone or with family.
I LOVE this place. This is your typical hole in the wall restaurant that is delicious and service wonderful. They have really great deals for lunch and the portions for both lunch and dinner are huge. Every time I come into this place it is packed with people and normally has about 2-3 to go orders waiting to be picked up. Walking in the door you are greeted with a smile right away. Ordering by phone and pick up is always easy. The people running the restaurant are very friendly and efficient. Great place to get Thai!!!
Yummy Thai food for both eating in and takeout. Some personal favorites of mine: -Basil Chili Noodles with Vegetables/Tofu: These noodles are addictive! -Green Curry with Brown Rice: The curry is nice and creamy without being too heavy. A good option if you're trying to eat healthy, as it has a lot of vegetables and you can ask for brown rice on the side instead of white rice. -Fresh Veggie Spring Rolls: These are also really healthy and delicious. They are huge too, and both the peanut and sweet dipping sauces are amazing. -Pad Thai with Tofu/Vegetables: The sauce on the noodles is a little sweet, but I like it that way. Something neat that this place does is they ask you what spicy level you'd like. I have a slightly above average tolerance for spice, so 5/10 is perfect for me.
Been coming here since I was little. The last couple of times I have been coming here, if you get a level three and above, it ends up being an extra couple of levels above what you actually ordered. I don't know what's going on lately. Wish it was more consistent with how they spice up the dishes. But otherwise the dishes are very good if you order correctly. Would also suggest bringing a jacket inside because it gets super cold inside.
This is probably my favorite Thai food place in San Diego. The staff is always so friendly. Lunch time during the week is the best time to go. Their specials are so good for the price. You can choose from about 20 different dishes which all come with soup, spring rolls, fried wontons, and a very small side salad. I usually go with the Pad Thai and it is delicious every time. I've gotten it either vegetarian (veggies and tofu) and with chicken - both equally as good and both $10 or less! Try this place out if you haven't already!
Food: 3.5 stars Dining experience: 3 stars Overall: 3 stars My homegirl and I were in the area and wanted something light, so we stopped by here. It was about 4 pm and the place was empty. We were the only customers for a couple minutes before 2 other couples came in. Everything on the menu seemed too large or expensive for our appetite, but we ended up finding a bowl of Tom Kah Kai and veggie spring rolls to be a good match. The soup was surprisingly enough for the two of us ladies. We ordered a level 3 spicy which was a good kick but not too spicy at all, I think I even added a tad bit more spice to mine. The spicy coconut lemon grass broth was very delicious and satisfying along with the pieces of mushroom and chicken. I'm still craving it to this day. The spring rolls came with 4 rolls and it was a guilt-free option with all the veggies. It comes with what I'm guessing is a sweet and sour sauce with crumbled peanuts and a warm, creamy peanut sauce (AMAZING!) We also appreciated the spices/sauces we asked for which included a whole jar of crumbled peanuts mmmmm. Everything was satisfying but because we ate so light it's difficult to say that the food really stuck out to me. The server was friendly, but our dining experience was average. Very spacious. Still no complaints tho!
This place seems to always disappoint me. No wonder in the 5 years I've lived close by here I've only come maybe 3x. Sadly when I'm craving Thai food it's my only option in the area. Tonight we got take out from here. Ordered the pad Thai it was bland, pineapple fried rice flavorless and mushy, eggplant tofu was good but too sweet, I asked for brown rice and got white, they forgot to include utensils in the order and left out my Thai iced tea. Of course I would have asked for these items if I picked up the order myself but I didn't. Think tonight was the last straw for me.
I just love the lunch specials at Spices Thai Café. There are so many great options, and you get a lot for your money. With the lunch special not only do you get your entrée of choice, but you get soup, salad, egg rolls and wontons with a plum dipping sauce. I love a lunch that I can turn into two meals. I've been ordering the same dish for years. The vegetable curry dish is the bomb. I'm not sure what they do differently than all the other Thai places that I eat, but I just love it! Tons of yummy veggies and ample curry sauce to soak in the rice. The dishes also come out very fast! They cater to business folks who only have the hour total to escape from the office.
Share this article
Related Posts